We are pleased to announce that Bluepoint Technologies has gained Cyber Essentials Accreditation. Cyber Essentials is a Government-backed and industry-supported scheme that helps protect organisations of all sizes against a whole range of cyber-attacks.
The scheme targets the most common cyber threats, particularly those which demand little skill such as hacking, phishing attacks and password guessing.
The certification has been awarded following the governing body's assessment of Bluepoint's IT systems, which were found to be performing to the required security standard.
Gaining accreditation demonstrates commitment to confidentiality and protecting both staff and client data.
Darrell Durrant, Operations Manager of Bluepoint Technologies, said: "This accreditation demonstrates our ongoing commitment to cyber security. We hope being verified by Cyber Essentials will reassure our clients, present and future, that the security of our IT and protection of data is of the upmost importance to Bluepoint Technologies."
Click here to find out more about the Cyber Essentials initiative, including how to gain certification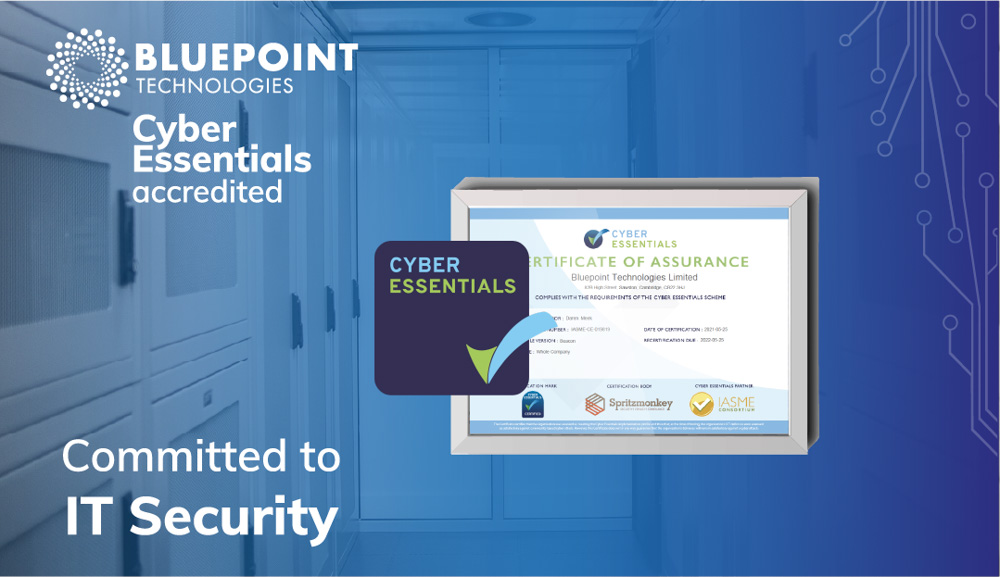 Find out more about: