iCareHealth – Network Cabling Installation
Workspace Interior Design/ Clinical and management software
Client Requirements
Provision of full network cabling and audiovisual (AV) infrastructure to suit very flexible workspace for social care software firm.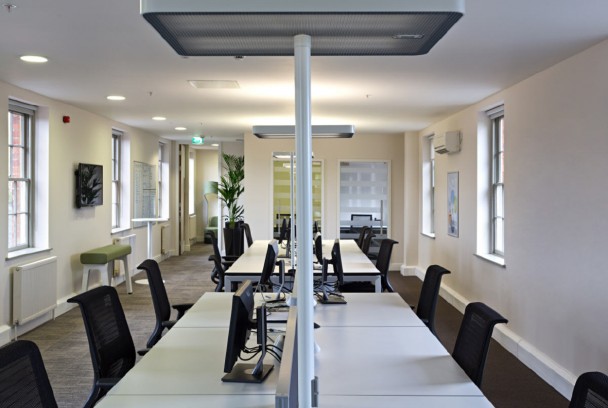 Contact us for a free quotation: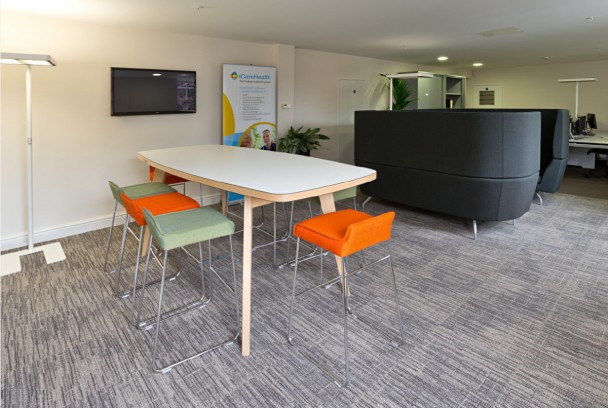 Remarkable Aspects
The requirement for 100% hot-desking within Grade II Listed building.  
Working on behalf of The Workspace Consultants, Bluepoint Technologies needed to fit into the brief of fulfilling the very modern requirements of the client whilst maintaining the conservation requirements of the Grade II Listed building and preserving any historic features therein.  
Resolution
The client, a provider of social care software solutions, wanted to achieve total hot-desking within a task based environment. The brief also included the provision of zoned workspaces with one side of the building constituting a quiet place to work with the other accommodating a noisier setting. Smart lockers areas where laptops could be charged plus formal and informal meeting spaces to support the working environment were also required and the support of mobile technology throughout was crucial to the success of this project. All of this had to be taken into account and accommodated within the design and installation of the network cabling and audio visual infrastructure. 
Bluepoint Technologies completed the project on time and within budget working with other trades and teams throughout the project. 
All projects  are completed and have been supplied with full operating and maintenance manuals, test results and a 25 year warranty to the works specification. If you require further information regarding this project or would like to discuss a similar prospect project in more detail, then feel welcome to get in touch. 
For reference, other projects involving a Listed building include the one undertaken for Milton Hall Estates and Combe Bank – A Radnor House School, which was overseen by English Heritage (formerly National Heritage).